My Own
He whispers in my ear that
He wants to own me
Control me
---
back !
See, I'm back before you knew it!
Frankrike var så vacker och stränderna fantastiska, fransmännen uppfyllde stereotypen om att inte kunna prata engelska och allt var så dekadent vackert som det bara kan bli i frankrike. Shoppingen var inte särskilt bra för kläderna i butikerna kändes hopplöst omoderna, inte på vintage sätt utan på 90-tals, glittrande tryck sätt.
Montepillier hade dock Sephora, Zara, Mango och andra godbitar, men bästa var det teatraliska omgivningarna i gränderna. På ett chocolaterie fann jag maccarons, och lyckan var gjord.
Men som man alltid säger så är hemma lite bättre och att vakna upp i världens bästa lägenhet imorse, kändes freakin fabulous. Bästa köpet i Frankrike var tallrikar med Audrey Hephburn på, de ligger i en rosa box med texten Manhattan Hotell och på varje motiv på tallrikarna är olika. Till dessa lika fina muggar med Holly på, förså smärtan att det fanns en vit gustaviansk stol med canvas tryck av Audreys ansikte på ryggtavlan. Jag tror jag dog lite.


---
Au revoir
So I'm leaving for now. Back in two weeks
:*
---
Lazee och Glamour
Alina n Hanny is happy, very happy. Lazee hade sötaste munnen ever. Roaw
Jag och världens snyggaste syrra framför Glamour tältet
He was fiiine, y'all. Som en liten studsande antilop och jag ville väldigt gärna klappa hans ögonfransar eller studsa runt där på scenen med honom.
I'm not T-Pain, don't fall in love with strippers
I like it when they shake, but I like fucking groupies better!

Word Lazee
---
Kisses don't lie
Cause when he kiss me
I feel everything that I been missing
I try to slow down but my heart wont listen
And its tearing me all up inside
And when he touch me
I feel a rush but I'm afraid that it might crush me
Should I put my trust in something I don't trust in?

I try to run but theres no place to hide
Cause baby kisses don't lie
---
Utkast: Jasmine är ...
Jasmine är min favoritprinsessa. Bryter sig loss ur sina bojor för att hitta världen utanför, och så har hon en tiger till husdjur. Det hade jag velat ha.
Heels: Guess
Resten: Topshop och net a porter
---
Utkast: Carrie: ...
Carrie: I'm looking for love. Real love. Ridiculous, inconvenient, consuming, can't-live-without-each-other love. And I don't think that love is here in this expensive suite in this lovely hotel in Paris
---
A diamond
A Diamond in the Rough

---
Bon Avion
Though week, men om bara några dagar är jag i France.. =)
---
Sunday
Ledig Söndag, ny klänning som är så mjuk och len, varmt väder och om en vecka semester.  Nästan så jag dör lite av lycka i hjärtat.
---
Lamb
Gwen Stefani har alltid varit en mina absoluta nutida stilförebilder, hon blandar, rosa, leopard, femtiotalselegans och reggaestil på det perfekta sättet. Hennes klädmärke L.A.M.B håller högre klass än de flesta kändismärken och kläderna där andas verkligen Gwen och det känns som hon medverkat i arbetsprocessen ( vilket sällan är vanligt i dessa märken tyvärr ). Hon gör underbara musikvideos och har sätter trender med dessa, tänk What you waiting, den Alice i underlandet inspirerade, aka knockoffen, som satte Miu Mius, Luella och Pradas fantastitänkande i rullning.
Hennes senaste video och låt är så vacker att det nästan är galet, låter heter early winter och du borde lyssna på den right now. You tube nästa.
Väska : YSL
Shorts: Wet Seal
Skor: Ysl
Parfym: L.A.M.B
It's sad the map of the world is on you
The moon gravitates around you
The seasons escape you
---
Post Princess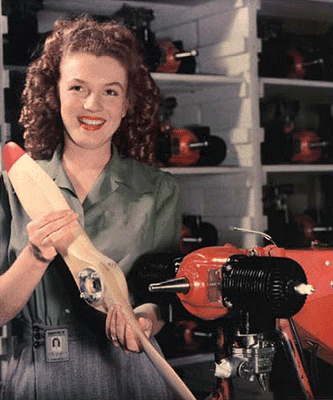 Dagens sötaste, Norma Jane Baker ( Marilyn Monroe ) back in the days.
---
A midsummer dream
---
Be a man
Motsatsen till min uberfeminina klädstil, väldigt maskulint men ändå med en kvinnlig touch.
Chinos är galet snygg tillsammans med höga klackar och clutch, denna inspirerad från den typiska herrportföljen. En maskulin klocka är så snyggt till den här klädstilen och en kylig kväll en kofta i bra kvalite, denna i riktigt skön kaptens stil.
Mustach halsbandet toppar stilen med en komisk touch.
Man, you're chic.
Chinos : Yves saint laurent
Cardigan: Millys net a porter
Heels: Jimmy shoe
Halsband från något kul snille till designer.
---
Teeny Weeny
Äntligen ledig en soldag, så nu åker jag ner till västra hamnen och myser på Vanna beach med min kära syster.
Här ska det spanas, soundtrack till den här dagen är Beautiful med Snoop och Pharrell som är världens, absolut bästa sommar låt som får mitt humör på topp. Enligt Erika ska vi äta vin och räkor på vanna. Man, this life is good sometimes.
( Smashing bikini från agentprovocateur får mina ögon att vattnas av dess skönhet, vill ha..)
Kisses
---
SJP
Ikväll 22.00 gästar SJP (  hur svårt är det inte att låta bli att skriva Carrie? ) Project Runway.
Y'all don't wanna miss this. Visst är hon slående lik Jennifer Aniston på den övre bilden?
However, don't miss her at Projekt Runway now.
<3
---
Colour me
Colour me so we can blend
---
Festival

Festival ? Me?
Regn, smuts, kroppshår, svettlukt, ostädade bajamajor. Skrikande människor.
I don't think so.
Ska ni på festival?

Jag håller mig till att göra ett kollage av känslan. :)
Boots: Chloe
Shorts + body : topshop
Other: Div. Designer mojs.


---
Rihanna & Alicia
Två galet vackra ladies i karamellfärgade klänningar, både Alicia och Rihanna har ändrat sin stil otroligt mycket de sista åren, både i musik och stil. Jag gillar Rihanna bättre nu, trots att det ibland ser ut som hon försöker helt för mycket,  men Alicias magi har försvunnit. Minns ni hennes underbara musik från förr? Rihanna visar hursomhelst hur galet snyggt det är med lila nagellack. Bilderna är från Bet Awards i Los Angeles där Alicia avslutade sitt tal med att säga de visa orden.
"I want to dedicate this award to the end of the word can't. That word is DEAD! We don't know that word - the only word that exists is can. Together we can do anything!"
---