He made it work!
Congrats Christian Soriano, you're fierce!
---
Coco !
Coco Chanel
är alltid lika aktuell och nästa år så kommer filmen om hennes liv fut. FIlmen ska handla om hennes liv före hennes framgång och rollen spelas av Audrey Tatou ( Amelie från Montemarte ).
Undrar om den kommer bli en lika stor fashionhype som Satc?
Anyhow, coco was not all coco in the coconut. Tänk att ha satt en stil som fortfarande präglar allt mode.
Now, that's something.
---
S.O.S please!
Jag köpte dessa stövlar idag, de är klassiska högklackade men går upp på knät vilket inte känns riktigt hundra. Jag känner mig som mästerkatten i stövlarna i dom. Behålla eller inte och leta i sthlm?
Help!
---
Ew
Enough is enough. Bildbevis varför man inte bär Gina toppar som klänningar.
---
Darling, you smell fab.
Alla har en thing, väskor, skor, dyrt smink eller fina krämer.
Mina är parfymer eller kroppssmör i godisvärldens alla dofter, så när jag vill må lite extra bra så köper jag mig en ny parfym. Det är absolut en av vardags lyxförhöjare enligt mig, men det är ju relativt dyrt om man vill ha 50 ml. Därför är jag nyfiken på Parfym.se som säljer de flesta märken väldigt billigt, priserna är ungefär 40% lägre än i vanlig butik. Leverans tiden sägs vara 1-2 dagar och frakten kostar 29:-. Någon som testat?
Min favvis Baby Doll ligger på 329:- för 50 ml, ord är ungefär 600:-, vilket känns som en fair deal. Någon som testat denna sidan? Eller sak man slå till på taxfreen? ( där det dock bara skiljer några kronor ).
Holla at your girl !
---
Now that's ice cream!
Sometimes the time comes around when a girl got to do her laundry. Så hur gör man det inte så roligt man kan med Sex and the city filmen mellan varven? Och bästa "måltiden" till denna måste såklart vara New York Fudge. Jag önskar att man kunde ha spolar i håret och vara omringad av massa cuties när man tvättar som de gör i filmer, but it aint happening. Så därför får man göra det så mysigt som det bara går!


---
Pink
I just felt it was a pink sunday

---
I want you
This rapper is mighta fine
But I want you
---
Thief in the night
You're a thief in the night
Stealin' my sanity
---
Clown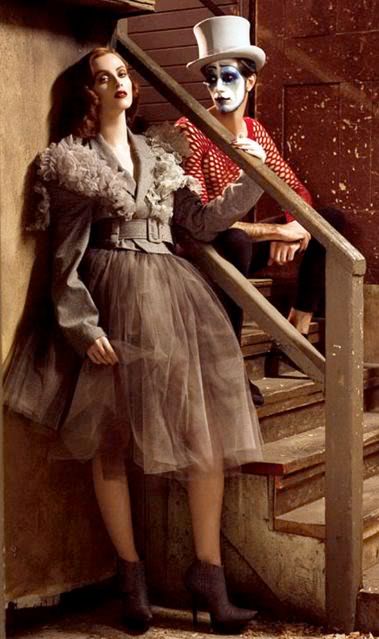 Boy,
This is not a circus
Don't you play me for a clown.
---
That's something!
Margherita Missoni är min främsta skönhetsinspiration, hon är så vacker och hennes stil känns unik i världen av alla trasiga rocktjejer. Vem är er favvis?
---
Valentino
Valentinos sista kollektion innan sin pension höll fanan för det finaste sminket.
Syrenlila på ögonlocken, ljusrosa blir dock snällare.. , vit kajal innanför undre franslinjen. Guld i ett litet v längst in i ögonvrån, ljus hy och rosa läppar. Voila, tres un little bit of magnefique.
( Min franska kommer från fantastin )
---
Like a woman
Feel like a woman
Wear a dress!
Diane v F
---
Garcons bläcons
Jag är inte direkt kalasglad över H&Ms val av designer den här hösten. Comme de garcons? Hallå?
Jag har aldrig gillat modet som bara ska vara så knasigt som möjligt, aldrig gillat Monkimodet och det milstora steg från det som är estetiskt vackert.  Jag är så trött på tofsar på huvudet, tantklänningar och kolsvarta glasögon. Det känns som alla kliver in i ett skal som är producerat fashionabelt. Jag vill se stereotypiskt kvinnligt mode. Jag är en kvinna.
Provecerar jag nu ? Är jag inte politisk korrekt?
Jag dör så trist.
Ge oss lite elegans. Jag önskar det hade varit Luella, Marni eller Diane von furstenberg som gästade H&M i år. Det hade varit fantastiskt.
H&M, I love you guys, come on. Följ inte med den strömmen.
Världen är redan för kantstött, knasig och upp och ner för att modet också ska vara det, cmon, gör världen vacker igen. Work with me? Please?
---
Gimme a home !
Kilklacks platåer från Topshop, patenterat läder. Oanvända. 350 :- Strl 40
Inbyggd platå, läder. Never used. 350:- Strl 40
Röda läder ballerinor med frills, Oanvända. 350:- Strl 40
Oanvända Converse 400:- strl 39

Hey partypeople,
vet inte om ni är intresserade alls. Men jag har några oskulder till skor som väldigt gärna vill ut och strutta på gatorna men jag ger dom ingen kärlek för jag har så många älskare redan. Är ngn intresserad?
Isåfall skriv till kittyy0@hotmail.com

---
Thought You Said
I'm so pressured I'm so physically drained.
I aint thinking straight
Sometimes the pain you ignore until it's right at you door.
& you can't take it no more.

Why does love feel this way?


But damn, I'm to fly to be depressed.  En prinsess jacka från Miu Miu, lite heels, ben and jerrys, vänner och kanske en eller annan magisk fé. Och sen är jag back on track. Eller en god bit på vägen iallafall.





---
Blood Diamond
Good Morning, this ain't Vietnam still
People lose hands, legs, arms for real
Little was known of Sierra Leone
And how it connect to the diamonds we own
Though it's thousands of miles away
Sierra Leone connect to what we go through today

Over here, its a drug trade, we die from drugs
Over there, they die from what we buy from drugs.


So, think twice before you
get that ice
---
Stronger
The pressure is on but guess who aint gonna crack
---
En prinsessa på vift
Jag och Tinny rymmer till huvudstaden om två veckor. Tre dagar i sällskap med sin bästis, en vacker stad, massa shopping och drinkar känns som en skön verklighetsflykt. Vi har hyrt en lägenhet i gamla stan, jag känner knappt till stockholm alls så jag tar väldigt gärna mot tips om resturanger, butiker eller annat som borde besökas. =)
Klänning: Forever 21
---
Going crazy
You turn my world upside down
I'm so confused
I don't know what to do

---
I wanna be the reason you smile
Den här t-shirten skulle jag vilja bära varje grå måndag, och om någon är ledsen eller tjurar pekar jag bara mot mitt bröst.
=) 
=D
Tee: Topshop
---
Chills
Kofta, väska, kjol & mössa: Topshop
Skor: Marc J
You know, it's been a while since I felt like this
The last time was high school
But this feeling I think he's so cute

And I knew from the start yeah, from the "Hi" and "Nice to meet ya"
I was blinded by he's features

---
Weekend off
Min fredag slutade halv sex imorse då jag äntligen la mig.
Galen dag, galnare kväll, galnaste natt. Ikväll blir det Malmö med Tinny.
Härligt med ledig helg!
---
Battle
---
So hypnotic
It's like I've been waiting my whole life for this one night
---
Utkast: Om det ...
Om det inte vore för hettan så hade jag älskat att strutta runt i favoritstaden Köpenhamn iförd denna outfit. Dagarna går och jag har magont över tanken på att timmarna på franska stränder, dagar i Lomma och tid att träffa vänner snart försvinner. Tre dagar kvar på semestern och jag har ångest stort som ett monster för att solen redan ska sluta lysa. Igår satt jag och pappa i solnedgången vid havet och åt glass, jag åt en lakritspuck å pappa en strut.
Åh these days.
---
You tear it all away
He makes me smile but I'm breakin inside
---